Have you ever been rejected to enter any foreign country?
I was finally done after 1 year and a half of digital nomad life around Thailand.
You may also want to stay there as long as possible.
But the regulation is getting more strict.
Read carefully if you want to keep the freedom of living.
I'll share the tips based on my experience.
Everything is recorded
It was my second time for me to be taken to the "special counter" near immigration gate at Don Muang airport.
Last time I could enter but I needed to book the return flight.
They only accepted the confirmed flight ticket to home country.
In my case Japan.
In the passport every day of "come in and go out" is recorded.
As they explained if you
-Stay more than 180 days a year
or
-Come more than 5 times a year
There is chance to get flag when you try to enter the country.
Only Non-immigrant Visa
Why I was rejected this time?
Because there was mis-communication.
According to my passport record I'm only allowed to enter Thailand with "Non-immigrant Visa".
Non-immigrant visa is like "business visa", "education visa", "elite visa" etc.
Tourist visa is not accepted.
Las time I've kept asking the immigration officer if tourist visa is ok or not.
But his English is not so good and didn't explain me clearly.
I remember he said "If tourist, you don't stay so long".
If I were informed clearly, I would never apply tourist visa, which was wasted.
No excuse
For immigration officers they never accept my excuse.
Just say "I don't trust you! I trust the record!"
That's quite offensive and rude like treating me as criminal.
In general Thai people are really kind and flexible.
But it's not applicable for the immigration officers.
Their judge is quite cold and only based on Thai law.
My Thai partner (girl friend) negotiated to them through my phone, but their conclusion was never changed.
Once you were rejected by their judge, please follow peacefully.
Otherwise they have right to put you name on the black lists.
My first time to stay at the detention room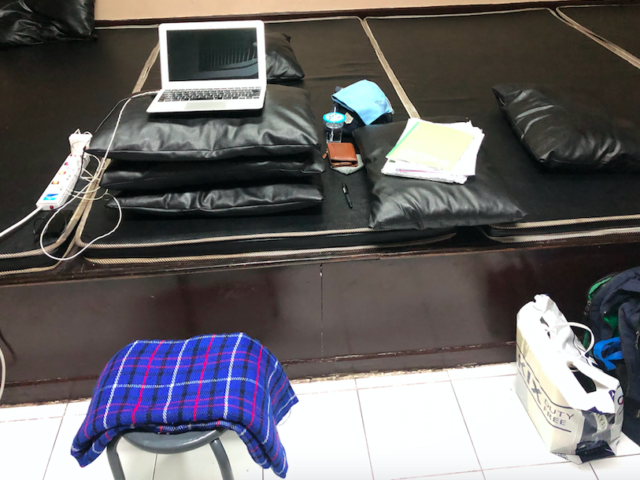 What happens if you couldn't enter Thailand?
You need to book the return flight and needed to wait at the detention room.
As the airport staff said it's 600THB per day.
Staffs at the detention room are so nice.
When I was doing Zen meditation to calm down my mind, they brought water and food.
They allow me keep using my electric gadgets.
When I was about to set up my work place with cushion, they gave me a chair.
I also could call with my partner before the flight.
I feel the nature of Thai people.
Round trip to Japan in 1 day
When I left Japan to Thailand it was early morning.
Arrive at Don Muang airport afternoon.
Stuck at the immigration in the evening.
Detained at the airport in the night.
Took midnight flight.
When I woke up, welcome back to Japan.
I feel I'm like a character of RPG game.
I didn't enter Thailand.
Game over.
Restart the game.
Find the solution!!!
Remote work in Thailand is illegal !?
When I was rejected at the immigration, the officer asked me.
"Why tourist can stay so long?"
This question doesn't make sense nowadays.
Because more and more remote workers travel around the world.
"I'm digital nomad. I work online and have revenue from Japan."
What they replied made me astonished.
"You work in Thailand. You meed work permit."
According to their logic you are not allowed to work anyplace in Thailand as long as you're tourist.
In reality it will never happen that every remote workers are kicked out of Thailand.
But it's better to keep in mind that they always have right to reject you as a name of illegal work.
Mission: Get Business Visa!
In my conclusion the only way is to get business visa.
Luckily my partner and I already completed the company registration after I got the first caution at the immigration.
Here is the basic flow to get business visa
1. Consulting with legal agent
2. Register company
3. Apply Business visa
After get business visa I can enter Thailand.
Then need to apply work permit.
For the latest information about Visa I recommend to ask agent directly.
The regulation is changing (in the more strict way).
Some methods are no longer useful.
Note: (Apr 6th, 2019)
My partner shares the information for the requirements.
Requirements for company registration
This time we selected 100% Thai ownership company.
-2 M baht capital
-VAT registration
-3 thai employees
-social security registration
Requirements for Visa application
-Agent
We highly recommend to choose an agent which has full of experience.
Requirements in accounting
-2 M baht (fully paid capital)
This is about after getting Visa, but better to know it.
It means you need some amount of money (capital) for running business.
Prepare documents
Without my partner I couldn't come back to Thailand so quickly.
There are a lot of required documents and certificates to apply business visa.
For running business as company you need to prepare some amount of capital.
Need to pay social security, VAT, fee for accounting etc.
Business visa is for a person who decides to work in Thailand seriously.
My partner worked for me so hard.
She prepare documents as fast as possible to get me back Thailand.
For example we noticed Japanese bank takes 1 week to issue the bank statement.
Then I sent EMS the document and asked her to issue it in my bank account in Thailand.
EMS 4 days and bank statement is the same day she receive the documents.
When I booked the flight to Malaysia, she sent EMS to the hotel I stay.
We did our best.
Got Visa in Malaysia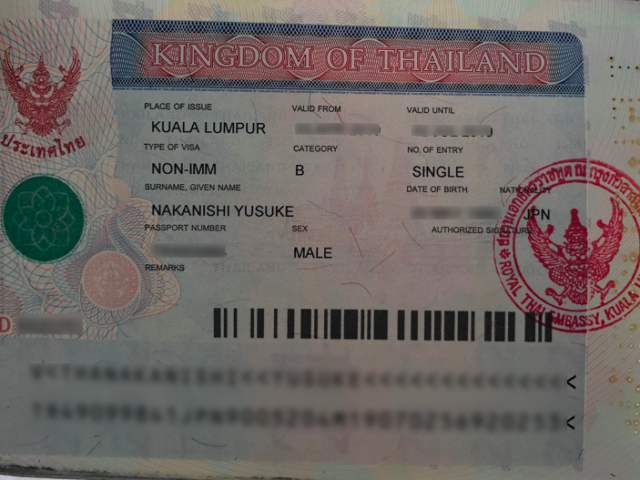 For the visa application at Thai embassy in Malysia it was surprisingly smooth.
I didn't have any trouble both for appying and receiving it.
Last stage is passing the immigration.
I'm back!
Arrived at Don Muang airport.
Last two times as soon as they scan my passport they took me the special counter.
This time should be ok.
But I couldn't release my tention.
Get off the ariplain.
Walk to the immigration direcltly.
No one is there before me at the immigration counter like last time.
The difference is that the officer is woman.
She is checks my passport carefully, talking with other officer through headphone.
It takes a little long because I have full of Thai immigration stamps on my passport.
She asked me,
"Do you cancel Tourist Visa?"
She seems to not seeing my passport record that "I cannot enter without non-immigrant visa".
"I rejected last time, so applied business visa."
I explained the situation.
She put the stamp on my passport and returned.
Finally I'm back to Thailand.
Live as foreigner
There is always country risk as long as you stay as foreigners.
The country doesn't have any obligation to protect you except your home country.
You cannot refuse if the country want to kick you out.
Thanks to this experience I feel even happier to stay in Thailand.
It's given life for me to do business there.
All I have to do is just to success.
GAME ON!
【無料レポート】『自動でビジネスの収益を伸ばす3つの仕組み』をプレゼント
実務で役立つウェブマーケティングのノウハウを分かりやすく紹介。
正しい知識を身につけて、収益が自動で伸びる仕組みを作っていきましょう。